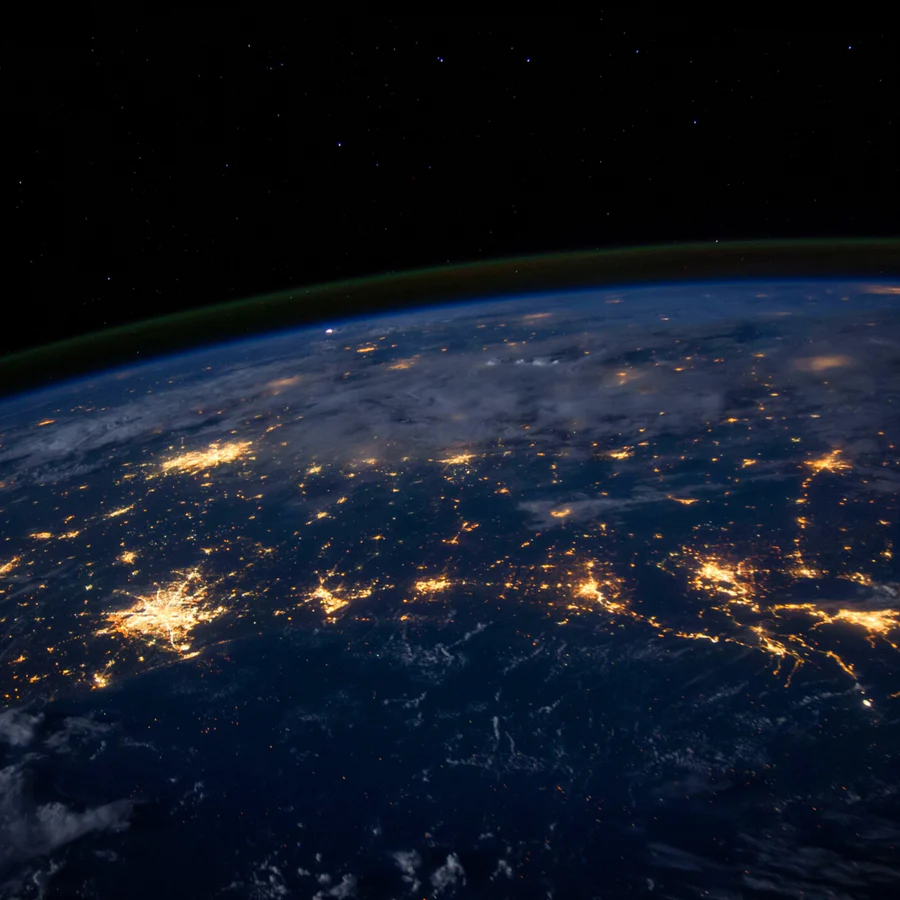 As an engineer by training, I have a weakness for well-designed charts, and I love to 'geek out' on simple charts that convey big ideas. Sankey diagrams are incredibly interesting, and one of my favorite ones are created by the smart people at Lawrence Livermore National Lab (LLNL).
The chart shows that the United States consumed just over 100 Quads of energy during 2019 (a Quad is 1,000,000,000 MMBTUs or 1,055,055,852 GJ). While this is a lot of energy, the purpose of the chart is to show where the energy comes from, and where it is going, helping to bring perspective on some of the challenges we face as a society in decarbonizing the energy economy.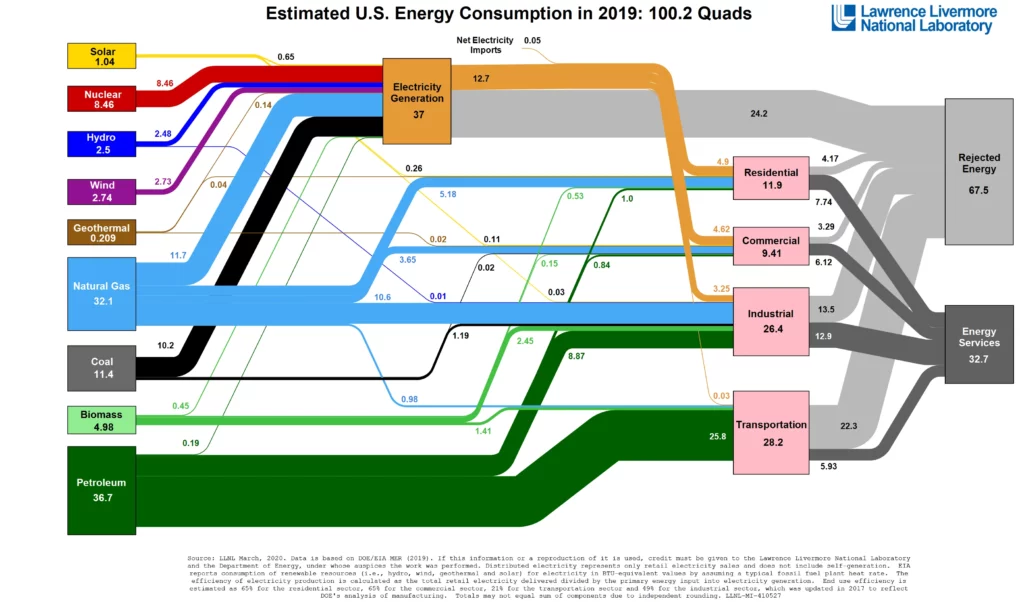 Some of the things we learn from this chart are:
1. In the US, our overall efficiency is quite low. We only end up extracting a little less than one third of the energy content in our fuels in order to turn our axles, heat our buildings and industrial furnaces, provide the light we need to extend daylight hours and to create, move, store and consume information and data. While this efficiency is now probably the highest it has ever been, the majority of our systems are still inefficient.
2. Decarbonized energy sources currently contribute only 20% of total energy. This includes solar, nuclear, hydro, wind, geothermal and biomass energy sources. (If you are not already overwhelmed, follow this link to LLNL to look at a complementary chart showing the flow of carbon dioxide.) If we exclude nuclear power, the proportion of our energy that is renewable drops to less than 12%. Again, while this is a small number and might be disheartening, it actually represents a huge win for the renewable energy industry, with wind and solar power leading the world in new installations last year. So, in spite of record growth in that industry, it still represents a relatively small portion of the overall energy input. Furthermore, due to intermittency associated with wind and solar, unless we also implement large scale storage solutions, the ability of these sources to displace fossil fuel will become more and more limited, with an increasing portion of energy rejected due to curtailment.
3. Electricity generation dominates the distribution and use, of the low-carbon energy sources, with 98% of the zero-carbon energy going to electricity. As it turns out, electrons are a good way for us to move around clean energy! Also, we need to do more to develop biomass-derived liquid fuels such as renewable diesel and jet fuel.
The chart also serves to highlight some of the sobering facts to consider if the US were to achieve net-zero emissions by 2050, just 30 short years from now. This we will discuss in a future post. However, today, I want to highlight some thoughts on where decarbonization strategies are focused, and also show how we at Nu:ionic play a role in these strategies.
1. Expand renewable electricity generation. This helps decarbonize the energy economy, by displacing fossil fuel sources. This can only happen if we have appropriate large-scale utility storage solutions, something Nu:ionic helps with, as we covered in last week's post. Nu:ionic is developing a highly effective, utility scale renewable energy storage solution, which will allow for long term storage of renewable energy.
2. Electrification of the industrial sector. Nu:ionic's Microwave Catalytic Reforming™ technology replaces the combustion of natural gas with electricity, in the form of highly efficient microwave energy, allowing industry to expand its use of clean energy.
3. Electrification and decarbonization of the transportation sector. The adoption of battery electric vehicles is an exciting development that allows for highly efficient use of energy, especially for use in most of the light duty transportation industry (and some heavy duty also). However, for heavy duty transportation and marine and air transport, we need to develop hydrogen as a fuel. The technology exists, but the production of hydrogen in a manner that allows efficient capture of the associated carbon is still emerging. Nu:ionic plays an important role, with our highly efficient on-site blue hydrogen production solution that allows low cost hydrogen fuel production from natural gas, renewable biogas, or green ammonia as feedstock.
For more details on our technology and commercialization plans, please get in touch!