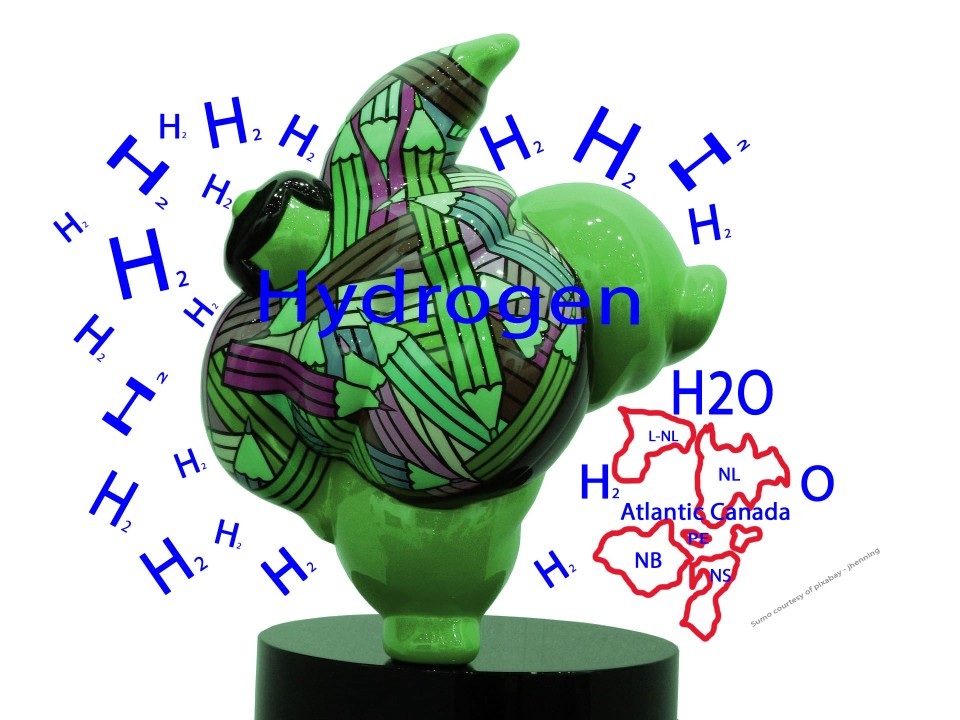 Hydrogen: Can Atlantic Canada's H2 strategies compete in a global 'squared circle'? Analysis / Commentary by Brian McLaughlin
(This is the original long-form, and my final, Third Commentary on Hydrogen, published in BNI's Telegraph Journal online, and within its other in print daily and weekly broadsheet newspapers across New Brunswick.)
"If you know the enemy and know yourself, you need not fear the result of a hundred battles. If you know yourself but not the enemy, for every victory gained you will also suffer a defeat. If you know neither the enemy nor yourself, you will succumb in every battle."
― Sun Tzu, The Art of War
Atlantic Canada's public- and private-sector Hydrogen initiatives and strategists should heed the wisdom of The Ancient Chinese General ("Master Sun") as we prepare to battle our global rivals.
All four provinces believe they have the will to compete in Hydrogen's global "squared circle". But can they master the means to win industrial scale green energy business?
And does Atlantic Canada really know who it's up against? Internationally, countries with near-bottomless pockets are ambitiously investing in hydrogen, wind, and solar.
Know the enem(ies)!
Communist China (CCP) – as the world's second fastest growing economy, where coerced economic and social harmonies build mega-energy and other infrastructure projects in mere-weeks versus months-and-years by western standards – is outpacing its own five-year targets with wind energy and solar objectives, even outpacing US and EU goals. The Peoples Republic of China is on course to hit wind and solar power targets five years ahead of time. Also, a recent Center for Strategic and International Studies (CSIS) article stated: The Communist regime released the country's first-ever long-term plan for hydrogen, covering the period of 2021–2035.
At about 33 million tons (Mt), China's the world's largest hydrogen producer. China's long-term plan builds on hydrogen-related visions and plans, including the 14th Five-Year Plan (2021–2025), where hydrogen is identified as a "frontier" area and one of the six industries for expansion.
China's $13.4 trillion GDP and 5.2 percent Annual GDP Growth Rate is second only to the US's $20.49 trillion GDP and its 1.6 percent Annual GDP Growth Rate. In comparison, Canada's $2.14 trillion (U.S. dollars) GDP comes last in a-field-of-ten, by 2023 GDP countries rankings. Our annual growth rate is predicted to be 1.3% in 2023 and 1.5% in 2024.
Back to hydrogen, then.
(Atlantic) Canada against China? It's akin to (four) dwarfs rushing up against a Sumo!
Saudi Arabia is sparing no expense: recently announcing investment at Oxagon, the world's largest green hydrogen plant, being built by NEOM Green Hydrogen Co. – a joint venture between ACWA Power, Air Products and the $500-Billion giga-project.
United Arab Emirates recently invested $1.3 Billion in industrial projects, including that country's first hydrogen electrolyzer fuel plant.
And even developing nation *South African is investing $4.6 Billion in the renewables and hydrogen gamble. In Nelson Mandela Bay, in the Eastern Cape of South Africa, thousands of hectares of land could one day become the world's largest green ammonia plant. Projected to start operations in 2026, the plant will be powered by a nearby solar farm and will get its water — of which vast amounts are needed to make ammonia — from a local table salt factory that desalinates seawater. (*Note: this energy news MSN/CNN update was added with a July 25, 2023 news link that was published after my original long form commentary/analysis was created.)